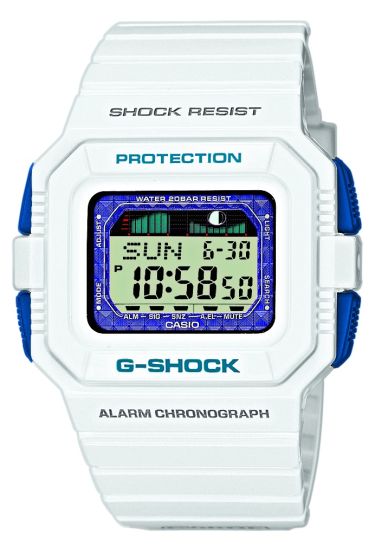 Casio G-Shock GLX-5500-7ER
Spar 14%
Vores pris
942,00 kr
Vejl. pris
1.098,00 kr
Casio
Udsolgt
Uret bliver ikke længere produceret
Casio GLX-5500-7ER også kaldet Surf Glide eller G-Lide er et ur fra den legendariske G-Shock serie som kan tåle stød, vand og vibrationer. Surfer uret er 80'er inspireret, men har et up to date LED display, der gør displayet krystalklart, så der er nemt at aflæse tiden – selv når du er på toppen af en bølge. I displayet vises tid, dato, ugedag og en oversigt med månens og tidevandets cyklus. Casio GLX-5500-7ER er kun produceret i et bestemt antal eksemplarer, så skynd dig at bestille inden det bliver udsolgt. Vi er naturligvis autoriseret forhandler af Casio ure, så du er garanteret officiel Casio service og garanti, samt et100% ægte ur når du køber gennem os.
Detaljer
Smart Casio sportsur i hvidt med masser af nyttige funktioner. Uret er en del af den populære G-Shock serie, som er specialdesignet til at modstå en hårdhændet behandling.
Auto-Illuminator
Aktiver denne funktion, og uret vil automatisk oplyse dets display når du drejer lidt på håndleddet.
Display flasher
En lysdiode blinker så snart en alarm, en nedtællingstimer eller et timesignal aktiveres.
Månedata display
Med udgangspunkt i din nuværende position i forhold til bredde- og længdegrader, vil månefaserne vises på displayet.
Tidevandsgraf
Tidevandets bevægelser vises grafisk, med udgangspunkt i gældende længde- og breddegrad og tidevandsinterval.
Verdensur
Uanset hvor i verden du befinder dig, vil du altid have den korrekte tid på dit Casio ur.
Stopursfunktion - 1/100 sek.
Foreløbig tid, mellemtid og sluttid måles ned til 1/100 af et sekunds nøjagtighed.
Yacht timer
Yacht-timeren bruges ved for eksempel start af regattaer. Nedtællingen kan sættes fra 1 til 10 minutter. For hvert minut som går afgives et akustisk signal, og i de sidste ti sekunder varsler uret hver sekund.
3 multi alarmer
Denne model har 3 uafhængige multifunktionsalarmer. Uret vil minde dig om enhver vigtig begivenhed du indstiller. Der er 4 typer af alarmer:
1. Daglig alarm der aktiveres på samme tid hver dag.
2. Datoalarm til for eksempel at huske fødselsdage.
3. Månedlig alarm der aktiveres samme dag i hver måned.
4. Alarm for hver dag i en bestemt måned.
Vandbeskyttende: 200 meter (20 bar)
Klassificeret til 20 bar eller 200 meter, og dermed perfekt til at svømme og dykke med (snorkeldybder, ikke dybder som dykning med iltflasker tillader). Meterværdien (200) er ikke lig med tilladt dykkedybde. Værdien refererer til luftrykket som benyttes i testen for vandtæthed (ISO 2281).
Shok afvisende
En såkaldt shok afvisende konstruktion beskytter uret mod voldsomme stød og vibrationer.
Levering
Standard levering - 3-10 hverdage
Vi vælger den billigste løsning, og du får gratis fragt for ordre på 500 eller over eller for kun 29 kroner ved ordre mindre end 500 kroner.
Prioriteret forsendelse uden omdeling
Vi sender din ordre til et afhentningssted tæt på dig. Ordren er 1-2 dage undervejs, så du hurtigt kan få din ordre!
Prioriteret forsendelse med omdeling
Vi sender din ordre til døren, om det er en privat eller erhvervsadresse. Ordren er 1-2 dage undervejs, så du hurtigt kan få din ordre! Er du ikke hjemme, kan du hente ordren på et afhentningsted tæt på dig typisk hverdagen efter pakken er forsøgt leveret.
Ekspreslevering i Storkøbenhavn
Bor du i Storkøbenhavn, kan du få din ordre leveret med bud samme aften, hvis du bestiller inden klokken 14 på en hverdag. Du vil modtage uret samme dag på din leveringsadresse mellem ca. 18.00 og 22.00. Det koster 35 kroner, og muligheden vil automatisk komme frem i betalingsfasen under leveringsmetode, såfremt du bor i et postnummer der er dækket og vi har uret på vores hovedlager.
Specifikationer
Specifikationer

| | |
| --- | --- |
| Urkassefarve | Hvid |
| Remtype | Gummirem |
| Urskivefarve | Blå |
| Glastype | Mineral |
| Urværk | Kvarts |
| Datovisning | Nej |
| Vandbeskyttelse | 20 atm (Dykning med snorkel) |
| Tykkelse | 14 |
| Diameter | 45 |
| Urkasse materiale | Resin |
| Låstype | Spænde |
| Køn | Kvinder, Mænd |
Størrelsesguide
Urets størrelse
For bedre at kunne forstå størrelsen på dette ur, har vi sammenlignet det med en dansk 5-krone. Billedet til venstre viser hvor meget af uret der dækkes af 5-krone mønten (som er 28,5 millimeter i diameter). Hvis du ønsker at se en oversigt over flere størrelser sammenlignet med en 5-krone mønt, så finder du den her


Hvordan måles urets størrelse?
Diameteren
Vi bruger udtrykket diameteren, men da ikke alle ure har cirkelformet urkasser, så er dia meteren reelt bredden målt fra venstre til højre. Bemærk at enkelte producenter inkluderer kronen (til at indstille uret) og knapperne når de måler bredden, men vi forsøger at standardisere alle urene ved ikke at medregne kronen som en del af bredden..



Tykkelsen
Tykkelsen - eller højden på uret i profil - angives ved at måle uret fra top til bund som illustreret nedenunder. Til sammenligning er en 5-krone mønt 2 millimeter tyk.
Man definerer normalt urene ud fra disse tal::
Tynd: 4-6 millimeter
Normal: 6-12 millimeter
Stort: 12-14 millimeter
Oversize: 14-18 millimeter