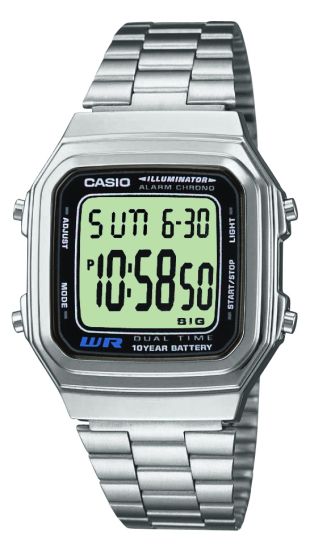 Spar 13%
Tilbudspris
305,00 kr
Normalpris
349,00 kr
Casio
Ure.dk er officiel Premium forhandler af Casio ure i Danmark. Som Premium Casio forhandler tilbyder vi tilkøb af en udvidelse af Købelovens 2 års reklamationsret til 3 års garanti på dit nye Casio ur.



Detaljer
Sekundær tidszone
Vil du gerne have mulighed for at se to forskellige tidszoner på dit ur på samme tid, kan du indstille en sekundær tidszone. Det er blandt andet ideelt, hvis du rejser meget eller ofte taler med folk i udlandet.
Stopursfunktion - 1/100 sek. - 24 timer.
Foreløbig tid, mellemtid og sluttid måles ned til 1/100 af et sekunds nøjagtighed. Urets målekapacitet er op til 24 timer.
Multi-alarm
Du kan indstille uret til at minde dig om vigtige begivenheder og aftaler. Der er 4 typer af alarmer:
1. En daglig alarm, som du kan aktivere til at lyde på samme tid hver dag.
2. En datoalarm, som kan bruges til at blive mindet om for eksempel fødselsdage.
3. En månedlig alarm, som du kan aktivere til at lyde samme dag i hver måned.
4. En alarm for hver ugedag i en bestemt måned.
Snooze-funktion
Du kan sætte alarmen på pause, og efter nogle få minutter vil den blive aktiveret igen.
Automatisk kalender
Korrigerer automatisk for måneder med forskellig længde, og naturligvis også ved skudår.
12- eller 24-timers tidsangivelse
Du vælger selv, om tiden skal vises i 12-timers format (med AM og PM) eller i 24-timers format.
Resin-urkasse
Resin er et naturligt materiale, som er yderst slidstærkt og fleksibelt.
Rustfri stållænke
Den rustfri stållænke giver uret et klassisk og elegant look, der udstråler kvalitet. Samtidig bidrager det til at gøre uret både hårdført og langtidsholdbart
Justerbar lås
Med den justerbare låsemekanisme er det let at indstille urlænken, så den passer til næsten alle håndled. Du lader blot låsen glide hen til det ønskede sted på lænken.
p>
Lang batterilevetid
Nyudviklet elektronik resulterer i meget lavere energiforbrug i uret end normalt.
Batterilevetiden er 10 år.
Battery: CR2025.
Vandbeskyttelse
Uret bør holdes væk fra vand, da det kun har en minimal vandbeskyttende konstruktion.
Vigtigt omkring kondens!
Ved hurtige temperaturudsving opstår der et undertryk i uret. Dette undertryk kan medføre, at der opstår kondens. Hvis det sker, vil du kunne se små dugdråber under glasset. Selv om duggen måske forsvinder, er fugten i uret ikke forsvundet. Det er derfor nødvendigt, at du hurtigt går til din urmager, der kan åbne urkassen og tørre uret. Gør du ikke det, vil fugten lægge sig i urværket, og det kan i værste fald betyde en totalskade af uret. Ingen ure er kondenssikre, selv om de er vandtætte. Kondens kan opstå, hvis du for eksempel går fra stærk kulde til høj varme. Det kan ske, hvis du går lige fra vinterkulden og ind i et varmt indendørs rum eller en meget varm sauna. Kondens er altså ikke ensbetydende med en fabrikationsfejl på uret, og det giver således ikke ret til reklamation.
Vægt
Ca. 51,00 gram.
Autoriseret forhandler
Vi er autoriseret forhandler af dette mærke. Det giver dig som forbruger en stor tryghed: Du kan være sikker på, at uret er ægte, og at du får den officielle service og en landsdækkende garanti.
Tekst på denne side tilhører Ure.dk og må ikke kopieres helt eller delvist uden skriftligt samtykke. Overtrædelse heraf vil blive mødt af et erstatningskrav.
Levering
Standard levering - 3-10 hverdage
Vi vælger den billigste løsning, og du får gratis fragt for ordre på 500 eller over eller for kun 29 kroner ved ordre mindre end 500 kroner.
Prioriteret forsendelse uden omdeling
Vi sender din ordre til et afhentningssted tæt på dig. Ordren er 1-2 dage undervejs, så du hurtigt kan få din ordre!
Prioriteret forsendelse med omdeling
Vi sender din ordre til døren, om det er en privat eller erhvervsadresse. Ordren er 1-2 dage undervejs, så du hurtigt kan få din ordre! Er du ikke hjemme, kan du hente ordren på et afhentningsted tæt på dig typisk hverdagen efter pakken er forsøgt leveret.
Ekspreslevering i Storkøbenhavn
Bor du i Storkøbenhavn, kan du få din ordre leveret med bud samme aften, hvis du bestiller inden klokken 14 på en hverdag. Du vil modtage uret samme dag på din leveringsadresse mellem ca. 18.00 og 22.00. Det koster 35 kroner, og muligheden vil automatisk komme frem i betalingsfasen under leveringsmetode, såfremt du bor i et postnummer der er dækket og vi har uret på vores hovedlager.
Specifikationer
Specifikationer

| | |
| --- | --- |
| Urkassefarve | sølvfarvet |
| Remtype | Rustfri stållænke |
| Farve på lænke/rem | Sølvfarvet |
| Urskivefarve | LCD/LED |
| Glastype | Mineral |
| Urværk | Digital |
| Datovisning | Ja |
| Vandbeskyttelse | 3 atm (Vandsprøjt/regn) |
| Tykkelse | 10 |
| Diameter | 41 |
| Urkasse materiale | Rustfrit stål |
| Låstype | Glidelås |
| Køn | Kvinder, Mænd |
Størrelsesguide
Urets størrelse
For bedre at kunne forstå størrelsen på dette ur, har vi sammenlignet det med en dansk 5-krone. Billedet til venstre viser hvor meget af uret der dækkes af 5-krone mønten (som er 28,5 millimeter i diameter). Hvis du ønsker at se en oversigt over flere størrelser sammenlignet med en 5-krone mønt, så finder du den her


Hvordan måles urets størrelse?
Diameteren
Vi bruger udtrykket diameteren, men da ikke alle ure har cirkelformet urkasser, så er dia meteren reelt bredden målt fra venstre til højre. Bemærk at enkelte producenter inkluderer kronen (til at indstille uret) og knapperne når de måler bredden, men vi forsøger at standardisere alle urene ved ikke at medregne kronen som en del af bredden..



Tykkelsen
Tykkelsen - eller højden på uret i profil - angives ved at måle uret fra top til bund som illustreret nedenunder. Til sammenligning er en 5-krone mønt 2 millimeter tyk.
Man definerer normalt urene ud fra disse tal::
Tynd: 4-6 millimeter
Normal: 6-12 millimeter
Stort: 12-14 millimeter
Oversize: 14-18 millimeter