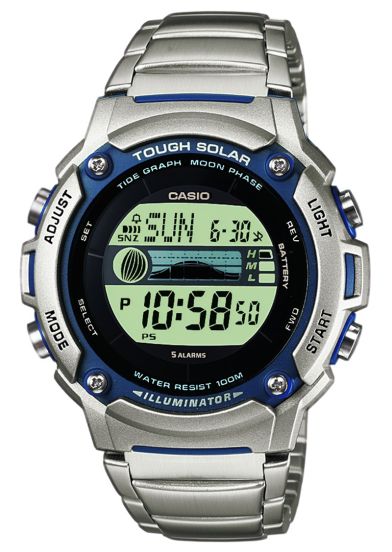 Casio Classic W-S210HD-1AVEF
Spar 22%
Tilbudspris
543,00 kr
Normalpris
698,00 kr
Casio
Udsolgt
Uret bliver ikke længere produceret
Beskrivelse af dette Casio Classic W-S210HD-1AVEF ur kommer snart. Se venligst specifikationer for at læse mere om urets specifikke data.
Detaljer
Et selvopladeligt solcelledrevet energisystem driver denne nye Casio W-S210 serie. Det miljøvenlige ur med månefaser og tidevandsindikator, fjerner praktisk talt behovet for batteriskifte, og er alligevel stærk nok til at have funktioner såsom verdensur for 48 byer, 1/100-sekunds stopur, 5 daglige alarmer og meget mere.
Et velegnet ur til blandt andet søsportsfolk og lystfiskere.
Solcelleenergi
En solcelle fungerer som energikilde for uret.
Vandbeskyttende: 100 meter (10 bar)
Klassificeret til 10 bar eller 100 meter. Det vil sige at uret kan benyttes når du svømmer. Bemærk dog at meterværdien (100) ikke er lig med tilladt dykkedybde. Værdien refererer til luftrykket som benyttes i testen for vandtæthed (ISO 2281).
LED lys med Afterglow
En lysdiode (light-emitting diode/LED) bruges til at oplyse urets front, og afterglow funktionen bibeholder lyset et par sekunder.
Månedata display
Med udgangspunkt i din nuværende position i forhold til bredde- og længdegrader, vil månefaserne vises på displayet.
Tidevandsgraf
Tidevandets bevægelser vises grafisk, med udgangspunkt i gældende længde- og breddegrad og tidevandsinterval.
4 daglige alarmer og 1 snooze alarm
Alarmerne bruger et akustisk signal, som minder dig om repeterende hændelser på det fastsatte tidspunkt. Du kan også aktivere et timesignal som markerer hver hele time. Denne model har fem uafhængige alarmer som giver fleksible påmindelser om vigtige aftaler.
Time signal
Uret kan indstilles til at afgive et signal for hver time der er gået.
Verdensur
Uanset hvor i verden du befinder dig, vil du altid have den korrekte tid på dit Casio ur. 31 tidszoner (48 byer).
Stopursfunktion - 1/100 sek. - 24 timer
Foreløbig tid, mellemtid og sluttid måles ned til 1/100 af et sekunds nøjagtighed. Urets målekapacitet er op til 24 timer. Kan vise bedste og næstbedste tid målt.
Nedtællingsfunktion
Måleenhed: 1 sekund.
Nedtællingsinterval: 1 minut op til 24 timer.
Automatisk kalender
Korrigerer automatisk for måneder med forskellig længde, og naturligvis også ved skudår. Programmeret frem til 2099.
12/24-timers tidsangivelse
Tiden kan angives enten i et 12 timers eller 24 timers format.
Tastelyd kan aktiveres/deaktiveres
Tastelyden kan deaktiveres så skifte mellem enkelte funktioner ikke afgiver lyd. Påvirker naturligvis ikke indstillede alarmer eller andre timere og påmindelser.
Urets nøjagtighed
+/- 30 sekunder pr måned.
Indikator for batteriniveau
Indikatoren viser nuværende batteriniveau.
Batteri
Genopladeligt solcellebatteri.
Levetid: 11 måneder på fuld opladning uden eksponering overfor lys.
Dimensioner
Ca. 45.4 x 44.0 x 13.3mm (H x B x D).
Vægt
Ca. 95,1 gram.
Levering
Standard levering - 3-10 hverdage
Vi vælger den billigste løsning, og du får gratis fragt for ordre på 500 eller over eller for kun 29 kroner ved ordre mindre end 500 kroner.
Prioriteret forsendelse uden omdeling
Vi sender din ordre til et afhentningssted tæt på dig. Ordren er 1-2 dage undervejs, så du hurtigt kan få din ordre!
Prioriteret forsendelse med omdeling
Vi sender din ordre til døren, om det er en privat eller erhvervsadresse. Ordren er 1-2 dage undervejs, så du hurtigt kan få din ordre! Er du ikke hjemme, kan du hente ordren på et afhentningsted tæt på dig typisk hverdagen efter pakken er forsøgt leveret.
Ekspreslevering i Storkøbenhavn
Bor du i Storkøbenhavn, kan du få din ordre leveret med bud samme aften, hvis du bestiller inden klokken 14 på en hverdag. Du vil modtage uret samme dag på din leveringsadresse mellem ca. 18.00 og 22.00. Det koster 35 kroner, og muligheden vil automatisk komme frem i betalingsfasen under leveringsmetode, såfremt du bor i et postnummer der er dækket og vi har uret på vores hovedlager.
Specifikationer
Specifikationer

| | |
| --- | --- |
| Urkassefarve | Grå |
| Remtype | Rustfri stållænke |
| Urskivefarve | LCD/LED |
| Glastype | Mineral |
| Urværk | Digital |
| Datovisning | Ja |
| Vandbeskyttelse | 10 atm (Bad/Svømning) |
| Tykkelse | 13 |
| Diameter | 44 |
| Urkasse materiale | Rustfrit stål |
| Låstype | Foldelås |
| Køn | Mænd |
Størrelsesguide
Urets størrelse
For bedre at kunne forstå størrelsen på dette ur, har vi sammenlignet det med en dansk 5-krone. Billedet til venstre viser hvor meget af uret der dækkes af 5-krone mønten (som er 28,5 millimeter i diameter). Hvis du ønsker at se en oversigt over flere størrelser sammenlignet med en 5-krone mønt, så finder du den her


Hvordan måles urets størrelse?
Diameteren
Vi bruger udtrykket diameteren, men da ikke alle ure har cirkelformet urkasser, så er dia meteren reelt bredden målt fra venstre til højre. Bemærk at enkelte producenter inkluderer kronen (til at indstille uret) og knapperne når de måler bredden, men vi forsøger at standardisere alle urene ved ikke at medregne kronen som en del af bredden..



Tykkelsen
Tykkelsen - eller højden på uret i profil - angives ved at måle uret fra top til bund som illustreret nedenunder. Til sammenligning er en 5-krone mønt 2 millimeter tyk.
Man definerer normalt urene ud fra disse tal::
Tynd: 4-6 millimeter
Normal: 6-12 millimeter
Stort: 12-14 millimeter
Oversize: 14-18 millimeter