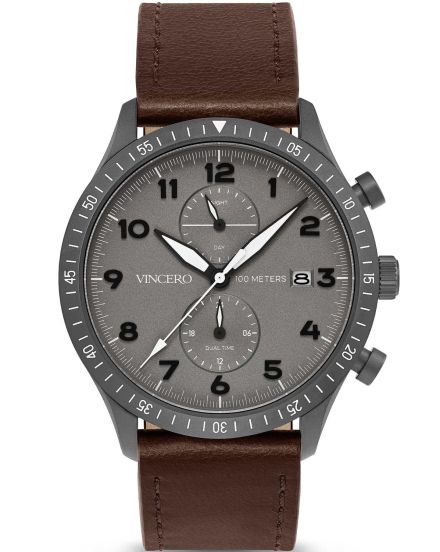 Vincero The Altitude - Matte Gray/Brown GraM-Ced-A13
Spar 30%
Vores pris
1.112,00 kr
Vejl. pris
1.598,00 kr
Vincero
På lager: Online
Afsendes straks på alle hverdage ved bestilling før kl. 15.00
Detaljer
Autoriseret forhandler
Vi er autoriseret forhandler af dette mærke. Det giver dig som forbruger en stor tryghed: Du kan være sikker på, at uret er ægte, og at du får den officielle service og en landsdækkende garanti.
24-timers ekstra urskive
I en lille ekstra urskive i midten af den store urskive kan du se tiden i 24-timers format.
Sekundær tidszone
Vil du gerne have mulighed for at se to forskellige tidszoner på dit ur på samme tid, kan du indstille en sekundær tidszone. Det er blandt andet ideelt, hvis du rejser meget eller ofte taler med folk i udlandet.
Datovisning
Du kan se den aktuelle dato på urskiven.
Selvlysende belægning
Med den selvlysende belægning har du mulighed for at kunne se uret i mørke, endda i længere tid. Det vil typisk være viserne og måske timemarkeringerne, der bliver selvlysende i mørke. Den selvlysende effekt kan opnås efter bare kort tids eksponering i lys.
Tekst på denne side tilhører Ure.dk og må ikke kopieres helt eller delvist uden skriftligt samtykke. Overtrædelse heraf vil blive mødt af et erstatningskrav.
Levering
Standard levering - 3-10 hverdage
Vi vælger den billigste løsning, og du får gratis fragt for ordre på 500 eller over eller for kun 29 kroner ved ordre mindre end 500 kroner.
Prioriteret forsendelse uden omdeling
Vi sender din ordre til et afhentningssted tæt på dig. Ordren er 1-2 dage undervejs, så du hurtigt kan få din ordre!
Prioriteret forsendelse med omdeling
Vi sender din ordre til døren, om det er en privat eller erhvervsadresse. Ordren er 1-2 dage undervejs, så du hurtigt kan få din ordre! Er du ikke hjemme, kan du hente ordren på et afhentningsted tæt på dig typisk hverdagen efter pakken er forsøgt leveret.
Ekspreslevering i Storkøbenhavn
Bor du i Storkøbenhavn, kan du få din ordre leveret med bud samme aften, hvis du bestiller inden klokken 14 på en hverdag. Du vil modtage uret samme dag på din leveringsadresse mellem ca. 18.00 og 22.00. Det koster 35 kroner, og muligheden vil automatisk komme frem i betalingsfasen under leveringsmetode, såfremt du bor i et postnummer der er dækket og vi har uret på vores hovedlager.
Specifikationer
Specifikationer

| | |
| --- | --- |
| Urkassefarve | Grå |
| Remtype | Læderrem |
| Farve på lænke/rem | Brun |
| Lænkens/remmens bredde | 22 |
| Glastype | Safirbelagt mineralglas |
| Urværk | Kvarts |
| Datovisning | Ja |
| Vandbeskyttelse | 10 atm (Bad/Svømning) |
| Tykkelse | 12 |
| Diameter | 43 |
| Urkasse materiale | Rustfrit stål |
| Låstype | Spænde |
| Køn | Mænd |
Størrelsesguide
Urets størrelse
For bedre at kunne forstå størrelsen på dette ur, har vi sammenlignet det med en dansk 5-krone. Billedet til venstre viser hvor meget af uret der dækkes af 5-krone mønten (som er 28,5 millimeter i diameter). Hvis du ønsker at se en oversigt over flere størrelser sammenlignet med en 5-krone mønt, så finder du den her


Hvordan måles urets størrelse?
Diameteren
Vi bruger udtrykket diameteren, men da ikke alle ure har cirkelformet urkasser, så er dia meteren reelt bredden målt fra venstre til højre. Bemærk at enkelte producenter inkluderer kronen (til at indstille uret) og knapperne når de måler bredden, men vi forsøger at standardisere alle urene ved ikke at medregne kronen som en del af bredden..



Tykkelsen
Tykkelsen - eller højden på uret i profil - angives ved at måle uret fra top til bund som illustreret nedenunder. Til sammenligning er en 5-krone mønt 2 millimeter tyk.
Man definerer normalt urene ud fra disse tal::
Tynd: 4-6 millimeter
Normal: 6-12 millimeter
Stort: 12-14 millimeter
Oversize: 14-18 millimeter